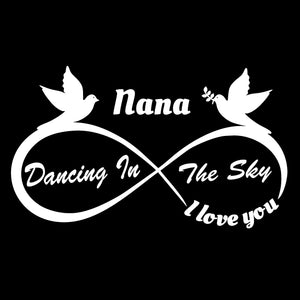 Nana - I Love You Forever
Allow the love and light of the good memories of your loved one to shine. 

These Peaceful Doves are Surrounding your Nana, infinitely, forever Dancing in the Sky

This Precision-Cut Decal is 5"High x 8.5" Long. Made with Highest quality White Vinyl and will adhere to any non-porous surface indoor or outdoor.  So simple, anyone can do it.  As a confidence booster, I will send along an instruction sheet.

I will usually have your new decal out no later than 1 business day - out the door and into the U.S. Postal system.  Watch for a Yellow Envelope.
Thank you  ~Sarge